I'm having trouble logging in. What do I do?
UNI uses third-party Login APIs provided by Facebook and Google to speed up the log-in process. These APIs need to store some cookies on your browser for smooth functioning. However, sometimes the settings on your browser don't allow third-party apps to store cookies on your device. All you need to do is allow the cookies and retry. You'll be able to log in smoothly. If you're unsure how to allow cookies, please follow step-by-step instructions for your browser. These settings are browser-dependent. If you're concerned about the cookies stored on your system, you can read our
cookie policy
. In all, the cookies we store are just to improve the working of Uni.xyz and its sister sites and provide you a better experience.
for Google Chrome

Launch Chrome and enter chrome://settings/content/cookies in address bar

Click on the 'Add' button in front of Allow (at the bottom of the page)
Enter https://[*.]uni.xyz:443
Press Add and retry logging in

If the problem still persists consider clearing your cookies for uni.xyz from the browser. Follow these steps:
1. Press F12.

2. Navigate to the Application tab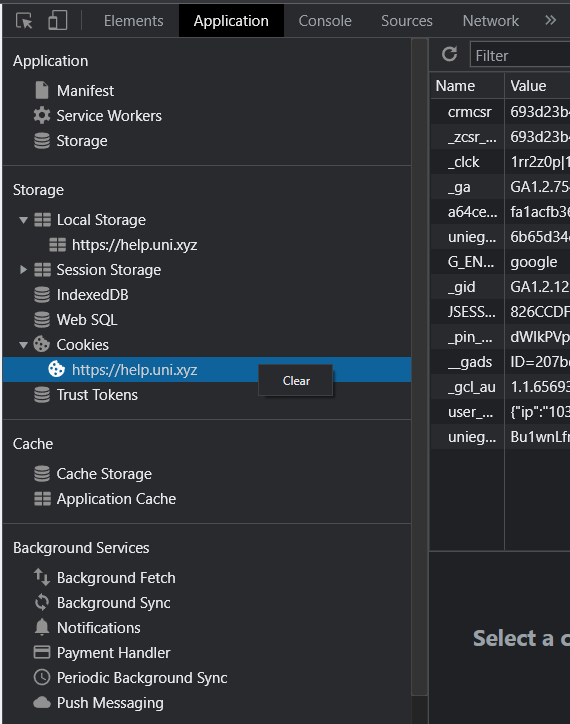 3. Expand Cookies section

5. Press Ctrl+shift+R to refresh the page and log in again.

Above mentioned steps should also resolve issues related to CSRF
for Mozilla Firefox

Launch Firefox and enter about:preferences#privacy in the address bar
Choose 'Standard' option under Content blocking and retry logging in

For Opera
Launch Opera and enter opera://settings/content/cookies in address bar
Click on the 'Add' button in front of Allow (at the bottom of the page)

Enter https://[*.]uni.xyz:443
Press Add and retry logging in

For Microsoft Edge

Click on ••• (3 dots button) on the top-right corner of the browser window

Press 'Settings' and then 'Privacy & security'

Under Cookies option, choose 'Don't block cookies' and retry logging in

For Apple Safari

Launch Safari and go to Safari (Menu bar) > Preferences

In the pop-up that appeared, go to 'Privacy'

Untick 'Block all cookies' in front of Cookies and website data and retry logging in

This will fix any log-in-related issues that might occur.
However, if the problem persists, please write to us at
contact@uni.xyz
about the problem you face along with the device (Windows 10 pc/ Mac) and the browser you were using.
Related Articles

I am having trouble registering. What do I do?

During your registration process, do not close or leave the page. However if due to some reasons, the page doesn't respond for long, check if the payment has been deducted. If the payment is deducted, do not pay again and send us an email at ...

How to clear cache of the website?

Clearing cache for UNI is a three-step simple process on Chrome/Firefox/Edge. 1. Go to your login/registration page. 2. Press F12. Your browser's inspect window will appear. 3. Right-click on the reload button near your browser address bar. 4. Select ...

I'm having trouble paying registration fees it won't redirect me to 'paypal' nor 'razorpay'

Try clearing the cache and cookies on your system for the successful payment of competition. However, if the query still exists you can reach out to us at contact@uni.xyz

Why do people need to sign up to vote?

It is essential for people to sign up to vote so that, the originality of the votes is maintained and to avoid fake voters. The system of signing up processes a good voting system, that ensures minimum fake votes.

Signing up on UNI.

To sign up simply open https://accounts.uni.xyz/ or click get started from the home page on UNI. At present, you may sign up using your Google account, Facebook account or by using your email address. Upon signing up using email you will receive a ...